Mission Statement
Creating memories as wonderous and grand as Yellowstone!
Our company offers road-based tours of Yellowstone National Park. We are based in Cody, Wyoming, and offer tours to visitors from all over the world. Our knowledgeable and friendly guides will show you the best of what Yellowstone has to offer, from the geysers and hot springs to the wildlife and majestic scenery. Whether you are a first-time visitor or a seasoned pro, our tours are sure to give you an unforgettable experience.
Explore our activities
Are you looking for a fun and hassle-free way to explore the breathtaking sights and sounds of Yellowstone National Park with your friends, family, or colleagues? Look no further than our Group Tour, designed to cater to groups of any size and provide an unforgettable experience for all.
Our knowledgeable and friendly tour guides will take you on a journey through the stunning landscapes and rich history of the area, highlighting the best park attractions and hidden gems along the way.
With our comfortable and spacious shuttle buses, you can sit back, relax, and enjoy the stunning scenery while we take care of the driving. Our Group Tour also includes plenty of opportunities for photo stops and wildlife viewing.
At Cody Shuttle, we are committed to providing you with a safe, comfortable, and enjoyable experience, and our Group Tour is no exception. We take all necessary precautions to ensure your health and safety. Our guides have extensive training in first aid, safety around wildlife, CPR, and safe food-handling procedures for your refreshments.
So why wait? Gather your group and book your Group Tour with Cody Shuttle today to create unforgettable memories and explore the wonders of Yellowstone National Park.
Explore Yellowstone without the crowd. Choose the Upper Loop, Lower Loop, or Top of The World tour, and let one of our professional guides take care of the rest. Perfect for families and couples that want to enjoy Yellowstone National Park at their own pace.
Starting from $375 per person
It is customary to give your tour guide a tip at the end of the tour if he/she has done a good job.
The amount is entirely at your discretion.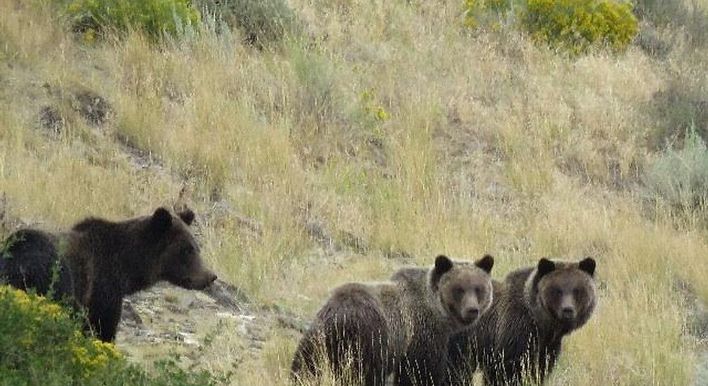 Welcome to Cody Shuttle's Curated Tour! Our tour is designed to give you a personalized and unique travel experience that is tailored to your interests and preferences. Our team of experts will work with you to plan an itinerary that meets your needs and interests. Throughout the tour, you will have the opportunity to meet and learn from local guides who will share their knowledge and expertise with you. We offer a range of unique experiences that you won't find on other tours. Our tour is designed to be flexible, so we can adjust the itinerary to meet your needs. Book your tour with Cody Shuttle today and let us take care of all the details for a personalized and unforgettable travel experience.
Curated just for you! Everyone is welcome! We offer tours for all budgets, group sizes, ages, interests, and activity levels.
Creating memories as wonderous and grand as Yellowstone is not only our mission. It is our passion.
You can confidently book with Cody Shuttle and know we will be there on time and provide you with an amazing tour.
We cannot wait to welcome you to Yellowstone!
Experienced, Amazing Guides
25 years in business with Excellent Reviews. Our guides have over 100 combined years of experience.
Inclusions
We sweat the small stuff. All the right inclusions and intimate knowledge of Yellowstone.
Curated for You
Everyone is welcome! We offer tours for all budgets, group sizes, ages, interests, and activity levels.
Phenomenal tour with David on May 25, 2023 This is the wildlife tour to take if you want to see and learn about all the amazing life in Yellowstone. This spring tour in Lamar Valley was truly a once in lifetime kind of day. Please get up and get out early, you won't be disappointed. David was flexible, asked what I wanted to see, offered suggestions and off we went. He shared a lot of history of the animal population decline and regrowth due to Yellowstone conservation programs. I learned so much. The scope provided was awesome and had a mount so I got awesome photos with my iPhone. It was the right day, right time and a great guide. (David took the moose photo but my iPhone got the rest of these, most using the scope!!)
Jim and I had the pleasure of having David as our guide. We chose the upper loop and a private tour. What a wonderful day we had. We saw black bears grizzly bears deer prairie dogs marmots and plenty of beautiful scenery. David took great care of us lunch was perfect and you couldd see the passion in this young man for Yellowstone he is a credit to the company
Susie Cotton
15th May 2023
This company is top notch. They were helpful even before I was picked up at the airport with places to stay, things to do, and logistics.They are the best people too, just like Mom-they want you to be safe and have a good time!
My husband and I had a wonderful day in the upper loop of Yellowstone. Our guide, Jill, was extremely friendly and knowledgeable about the park. We really enjoyed all the animals she found for us. Highly recommended !
Barbara McCormick
28th September 2022
We had a fantastic day touring Yellowstone with David. With his expertise we experienced many sites we would never have found on our own. From Yellowstone lake, Old Faithful, the waterfall, to the knowledge David gave us, we had a day we will never forget. And did we mention all the awesome animals we saw! Do yourself a favor and book Cody Shuttles, it's a ride you'll be glad you took, and ask for David!
Cindy Davenport
28th September 2022
My family and I spent 2 days recently with the Cody Shuttle and could not have been happier. We had 9 people in our group and the tour guides kept us all engaged and excited about seeing Yellowstone and all that it had to offer. By the end of each trip it felt like the tour guide was one of the family as we spent many hours together. Their knowledge of the parks as well as their ability to navigate the roads and make a quick turn if we thought we saw an animal was perfect. The lunch they packed for us was great and we loved not having to make any decisions. We could not have been happier and would highly recommend them. We even left a couple of things in the van and they mailed them to us after we were home.
Melissa G
31st August 2022
Jill was very knowledgeable and was eager to share her knowledge with us. She went above and beyond being a guide for our bus of 6.
Mark Lawrence
28th July 2022
My husband and I had the pleasure of using this service for our vacation this July 4th 2022 holiday. We got both the upper and lower tours...I must say our drivers, (Riley one day, and Jill the second) were just about the most knowledgeable, and personable of guides...very courteous. They were also most solicitous of my physical limitations. We thoroughly enjoyed ourselves. This is the ONLY way to enjoy the park, IMHO. I will be recommending it to all my friends and FB followers.
Michelle Ryan
28th July 2022
David had the 4 of us on a private tour for about 10 hrs. He was awesome, knowledgeable and fun! Knew a bunch about everything and was at our disposal. He took us to all we wanted to see, had lunch at Old Faithful (Even got us there to see it erupt within minutes), and stopped as we spotted elk, bears, deer, and some great birds! I would recommend this tour company and David to all that come to Cody, Wyoming!
Previous
Next
Location
Cody, Wyoming
Cody, Wyoming is the perfect place to start your Yellowstone tour! The drive from Cody to Yellowstone is some of the most scenic in the lower 48, and you're sure to spot some amazing wildlife along the way. Cody is a great little town with a small-town feel and community. There are scenic views and animals to spot in every direction from town. Most people don't know that the best time to visit Yellowstone is actually late spring or early fall when the weather is milder, the crowds are smaller, and the animals are more active. So if you're looking for an unforgettable Yellowstone experience, look no further than Cody, Wyoming!
Frequently asked questions
Most frequent questions and answers
Recent news
As the sun rises over Mt. Washburn it reveals a pristine wilderness, rich with wildlife and teeming with geothermal activity that makes the world's first National Park sacred to so many people. Today launches the 151st year of Yellowstone…
Why wait? Book a tour online now!
.
Book your Road-Based Tours of Yellowstone National Park online in Cody, Wyoming today!